Turbomix Super

Hand Blender

Enjoy the art of cooking and relish in the delightful memories of bringing smiles to the faces of your loved ones with the HB Turbomix Super Hand Blender.





No reviews |
Write a Review
1399.00
175-Watt Power Motor
Ergonomic Handle with Hanging Loop


Convenient Push Button
Super Sharp Stainless Steel Blades
Colour: Red & White
Super Sharp Stainless Steel Blades
Detachable Foot
2-in-1 Silent
The HB Turbommix Super Hand Blender lends you the liberty to stir up any recipe without letting you fret over the extra effort. Boasting an intelligent mechanism with a sensible and easy to operate design; the hand blender becomes a must-have tool for all your kitchen endeavors.
Description
Specifications
Support
Reviews
Warranty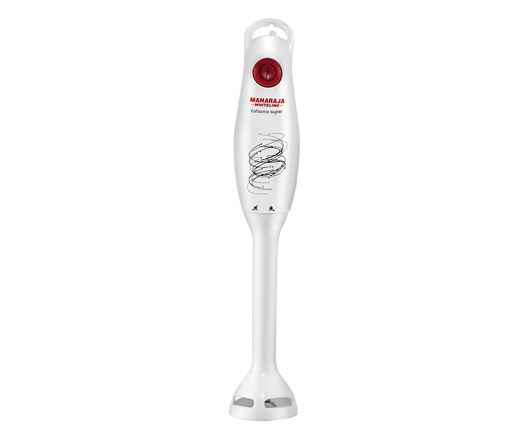 175watt Powerful Motor For Long Lasting Performance:

The HB Turbomix Super is tactfully manufactured to deliver high performance. Equipped with a 175-watt motor, the hand blender delivers an ideal sum of power for a uniformly efficient blending experience, ensuring long-lasting performance.

Super Sharp Stainless Steel Blades:

Facilitated with Super Sharp Stainless Steel Blades, the HB Turbomix Super is geared to blend and crush the toughest of skin and flesh of the ingredients with ease to serve a smooth batter, purree, or smoothie.

Ergonomic Handle With Hanging Loop & Convenient Push Button:

The Hand Blender sports an ergonomic design with an easy-to-grip handle modeled with a hanging loop for easy storage. Furthermore, enhancing the experience, it comes an easy to operate, a single push-button operating system for quick and easy functioning.

2-in-1 Silent Yet Powerful Operation:

Stir up deliciousness in the early, hushed hours of the mornings without the worry of loud operation. Manufactured for a user-friendly experience, the high blend capacity and low noise motor of the HB Turbomix Super delivers a silent yet powerful performance.

Detachable Anti Splash Plastic Foot:

Enjoy the benefits of a sensibly designed hand blender mechanism with the easy-to-clean, detachable, anti-splash plastic foot of The Maharaja Turbomix Super.

Food Grade Safe:

Quality makes for a pleasing experience. The HB Turbomix Super measures up to food-grade safety material, affirming a healthy & reliable relationship with the gadget.
Product Reviews
No reviews