Speedmix Super

Hand Blender

Always fresh and healthy with the cut-edge multi-purpose operation technology of The HB Speedmix Super.





No reviews |
Write a Review
1399.00
175 Watt Powerful Motor
Detachable Plastic Foot


Convenient Push Button
Stainless Steel Blades
Power: 175W
Color: Blue & White
Super Sharp Blade
Product Warranty: 2 Years
The HB Speedmix Super brings to your kitchen the ease of blending, mashing & pureeing under the control of a single push of your fingertips. Engineered with a 175 Watt Motor & fitted with sharpened stainless steel blades, the hand blender delivers the optimum power & strength for all your cooking & blending endeavors. Handle with ease with an innovative & convenient design.
Description
Specifications
Support
Reviews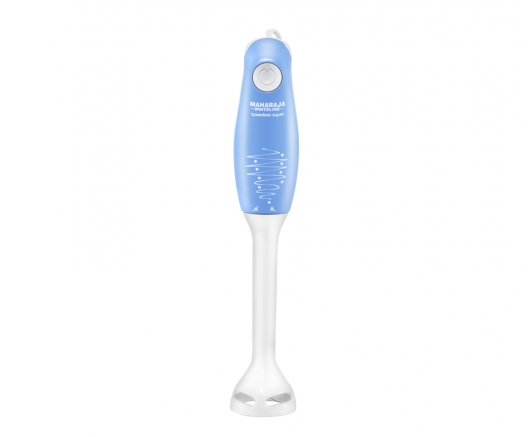 Stainless Steel Blades

Tactfully equipped with super sharp stainless steel blades, The HB Speedmix Super Blender is prepped for smooth and fluid blending. It slices through the toughest of skin or flesh of the ingredients to deliver with ease.

Detachable Anti Splash Plastic Foot

The HB Speedmix Super Blender is manufactured intelligently to deliver a user-friendly experience. It sports a detachable Anti-Splash Metal Footprint promising a convenient & easy operation & hassle-free cleaning process.

Ergonomic Handle

While operating a hand blender, a steady grip stands imperative. The HB Speedmix Super Blender flaunts a flawless mechanism, and body with an ergonomic design for its handle ensuring easier grip.

Convenient Push Button

The simplifying operation, the Speedmix Super Blender comes with a single push switch system, quick and easy.

Long-Lasting Performance With 175W Motor

Driven by a 175-Watt Motor, The HB Speedmix Super Blender is tailored for a suave experience. The Hand Blender facilitates an optimum measure of power for the blending process and maintains long-lasting durability for extended life.

2-in-1 Silent Yet Powerful Operation

Begin your day building sweet-little, healthy miracle moments with your loved ones. Prepare delightful smoothies with the HB Speedmix Super Blender early mornings, in the hushed hours, with the heavy blend capacity and low noise motor ensuring a silent yet powerful performance.

Multipurpose Operation

The HB Speedmix Super Blender is optimized with features to serve a multipurpose operation. It blends, mashes & purees with ease and consistency.

Food Grade Safe

Quality makes for a pleasing experience. The HB Speedmix Super Blender measures up to food-grade safety material, affirming a healthy & reliable relationship with the gadget.
| | |
| --- | --- |
| Power | 175W |
| Foot material | Plastic |
| Detachable foot | Yes |
| Speed setting | No |
| Number of blades | 2 |
| Blades material | Stainless Steel Blades |
| Whisking blade | Yes |
| Whipping blade | No |
| Chopping blade | Yes |
| Blending Blade | Yes |
| Chrome button | No |
| Detachable blade | No |
| Hanging loop | No |
| Wall mount | No |
| Chopper accessory | No |
| Beaker accessory | No |
| Other accessory | No |
| Food Grade Safe | Yes |
| ISI Certified | Yes |
| Warranty - Motor | 2 years |
| Warranty - Product | 2 years |
| Features | 2 In 1 Silent yet Powerful |
Product Reviews
No reviews