Infiny Mix Pro+

Hand Blender

Taste the good side of life with an efficient appliance.





No reviews |
Write a Review
1999
250-Watt Powerful Motor
800ml Multi-purpose Jar


100% Easy To Clean
3 Detachable Blades
Colour: Red & White
Detachable XL Size
800ml Beaker
The Maharaja Whiteline Infiny Mix Pro+ Hand Blender enlivens your everyday cooking endeavors with skillful ease featuring a robust mechanism coupled with an intelligent design. The Hand Blender sports a 250-Watt motor & super blend technology to deliver fast and powerful performance, functioning with refined efficiency. Further fueled with an ergonomic design and high-grade material, the Infiny Mix Pro+ makes cooking a breeze.
Description
Specifications
Support
Reviews
Warranty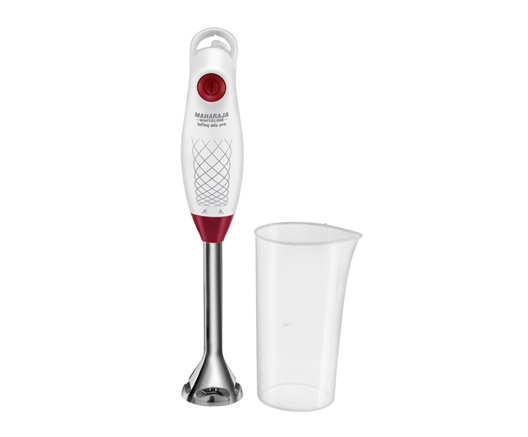 250-Watt Motor:

The Infiny Mix Pro+ Hand Blender is propelled forth with a 250-watt motor strength constituting a sturdy mechanism. Facilitating a dynamic performance, the hand blender renders the ideal intensity of power to service a smooth blending experience, & retain long-lasting durability.

Detachable Xl Size Ss Shaft With Unique Brushed Finish:

Sensibly designed, the infiny mix pro+Hand Blender flaunts an XL size shaft delivering a deep blending performance. Furthermore, the shaft features detachable, stainless steel built to enhance convenience, and build a user-friendly experience. The foot also sports a unique brushed finish to elevate the elegance of the body & add to its sleek look.

Duraforce Advanced Blade Technology:

The Infiny Mix Pro+ Hand Blender boasts super blend technology geared with duraforce advanced blades honed super-sharp. The stainless steel blades perform seamlessly with ease to produce high-performance results for the task at hand.

800ml Multi-Purpose Jar:

The hand blender comes equipped with an 800ml multi-purpose jar. The feature accommodates all your whisking, blending & whisking needs into one, endorsing easy operation and advocating a pleasant ordeal.

100% Easy To Clean:

The Infiny Mix Pro+ Hand Blender favors a user-friendly experience with utmost priority. Thus, it facilitates a 100% hassle-free clean-up simplified with detachable blades & a detachable metal shaft.

3 Detachable Blades:

Furnished with a set of 3 detachable blades, each catering to a diverse batch of needs comprising operations for a chopping & blending blade, a beater & whipping blade, and a whisking blade, the Infiny Mix Pro+ Hand Blender supports various operations with seamless ease & prowess

Convenient Anti-Splash Foot:

Featuring an anti-splash foot, the Infiny Mix Pro+ Hand Blender keeps your kitchen mess-free despite rigorous use. Further providing aid in a quick cleaning and prevent a taxing wrap-up ordeal.

Ergonomic Handle With Hanging Loop:

Boasting an intelligent built, the hand blender sports an ergonomically designed handle ensuring an easier grip during usage. The handle is optimized for a convenient, and comfortable experience additionally facilitated with a hanging loop promoting easy storage.

Food Grade Safe:

Quality makes for a pleasant experience. At Maharaja, delivering a delightful time takes precedence. Therefore, the Infiny Mix Pro+ attests to food-grade safety measures, building a healthy & reliable relationship with the kitchenware.
| | |
| --- | --- |
| Power | 250W |
| Foot material | Metal, XL shaft and Unique brush finish |
| Detachable foot | Yes |
| Speed setting | No |
| Number of blades | 2 |
| Blades material | Stainless Steel Blades with Duraforce Blade technology |
| Whisking blade | Yes |
| Whipping blade | No |
| Chopping blade | Yes |
| Blending Blade | Yes |
| Chrome button | No |
| Detachable blade | Yes |
| Hanging loop | No |
| Wall mount | Yes |
| Chopper accessory | No |
| Beaker accessory | Yes, 800 ml |
| Other accessory | No |
| Food Grade Safe | Yes |
| ISI Certified | Yes |
| Warranty - Motor | 2 years |
| Warranty - Product | 2 years |
| Features | 2 In 1 Silent yet Powerful |
Product Reviews
No reviews