Infiny Mix

Hand Blender

Be crafty with your cooking using the Maharaja Infiniy Mix Hand Blender





No reviews |
Write a Review
1749.00
150 Watt
3 Multifunctional Blades


Detachable Blades & Foot
Food Grade Safe
Colour: White & Red
Detachable Metallic Foot
3 Detachable Blades: Succeed All Your Recipes
The Maharaja Infiniy Mix Hand Blender is equipped with 150 watt capacity, 3 multifunctional blades, a detachable body and an array of features that make it a must-have for every kitchen. This powerful appliance has been crafted to bring efficacy as well as ease to your cooking. It enables you to cook delicacies that involve multiple stages of assorted processing of ingredients.
Description
Specifications
Support
Reviews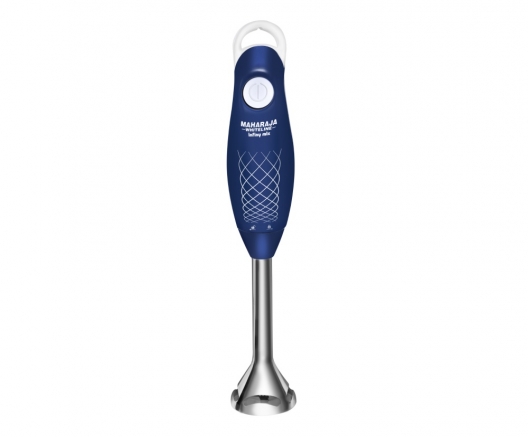 100% Easy & Clean

The detachable blades and shaft make the cleaning very easy for you. It helps in maintaining the efficacy of the machine and keeps its performance intact for a very long time.

150 Watt

The 150-watt motor delivers exceptional power and durability as well. It helps you blend, whip, chop and whisk with great efficiency and becomes a stellar addition to your kitchen

Ergonomic Handle

The handle has been designed to give ease along with a good grip. It ensures that you can effortlessly hold on to the blender while carrying out different tasks in your cooking.

Easy Storage

With the built-in hook on the top of the blender, you can hang it anywhere in the kitchen. Else, you can detach disassemble the appliance and keep it anywhere you want.

Anti-Splash Foot

With the anti-splash foot, you get to keep your kitchen and clothes clean no matter what you blending or whipping. It does not cause a splash of liquids to spring out of the vessel.

Detachable SS Shaft

The detachable stainless steel shaft enhances the sturdiness as well as the level of convenience in this appliance. Not only it brings ease into storage, but it also makes the blender long-lasting.

2 Years Warranty

With 2 years warranty, you get an assurance of quality that you can back upon. Though the product is built to be impeccable, if there's any discrepancy, you can it get addressed

Multifunctional Blades

You get 3 different types of blades that help you do the chopping, blending, beating, whipping, and whisking. They make your kitchen more efficient and prepares you to make comprehensive recipes.
| | |
| --- | --- |
| Power | 150 W |
| Foot material | Metal |
| Detachable foot | Yes |
| Speed setting | No |
| Number of blades | 3 |
| Blades material | Stainless Steel |
| Whisking blade | Yes |
| Whipping blade | Yes |
| Chopping blade | Yes |
| Blending Blade | Yes |
| Chrome button | No |
| Detachable blade | Yes |
| Hanging loop | Yes |
| Wall mount | Yes |
| Chopper accessory | - |
| Beaker accessory | No |
| Other accessory | NA |
| Food Grade Safe | YES |
| ISI Certified | YES |
| Warranty - Motor | |
| Warranty - Product | |
| Features | |
Product Reviews
No reviews