Acqua Bliss

Steam Iron

Smart steam iron with smooth glides & crisp functioning for effortless care





No reviews |
Write a Review
1585.00
1200-Watt Powerful
Easy Wrinkle Removal


Non-Stick Soleplate
150 ML Tank Capacity
1200W Power Consumption
Non-Stick Soleplate
Easy Wrinkle Removal
Overheat safety protection
ISI Certified
2 Years Warranty
Caring for your clothes made a piece of piss with the Maharaja Whiteline Aqua Bliss Steam Iron. Even in the times of monsoon, the iron makes sure to keep your clothes crisp and fresh. It is mechanized with a 1200-watt powerful motor to deliver a robust performance. It is a go-to solution for easy and quick wrinkle removal with steam functionality and a 150 ml tank capacity.
Description
Specifications
Support
Reviews
Warranty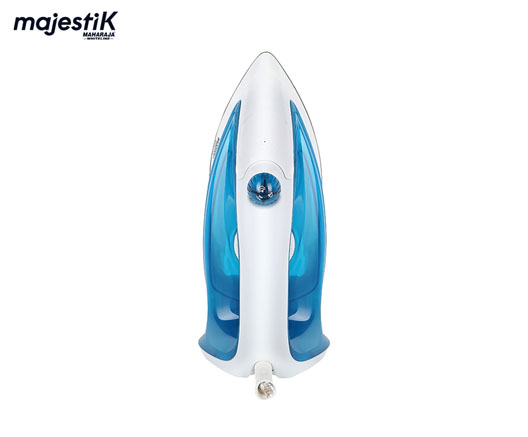 Delivers power-packed performance with 1200 watts:

The Maharaja Whiteline Aqua Bliss Steam Iron is precision-engineered to create a powerful output of 1200 watts. It heats up quickly and, before you know it, your clothes are crisp and straight.

Easy wrinkle removal:

With steam ironing, you surely got to stay relaxed from the hard wrinkles on your clothes. The Aqua Bliss is an effective solution for removing deep-set wrinkles from dense fabrics.

Non-stick soleplate:

The Aqua Bliss Steam Iron has a non-stick soleplate that glides smoothly throughout your fabrics. It ensures the quality of your fabrics and that the clothes remain intact no matter what is kept on the board.

Anti-calc:

Helping you save excessive energy and minimize the risk of burning your clothes, the Aqua Bliss features an integrated anti-calc system. It prevents scale from aggregating into the iron and maintains steam performance& ironing results.

Tank capacity:

The Steam Iron Aqua Bliss from Maharaja Whiteline comes with a fulfilled tank capacity of 150 ML that extends your comfort in utility. Each shot releases 10 grams of water per minute so you can set yourself free from refilling the tank again and again.

Overheat safety protection:

Overheat protection technology is built into the Steam Iron. When the appliance reaches an unsafe thermal intensity, the feature automatically stops further heating and provides precautionary protection.

Indicator light for readiness:

The iron features a light indicator to keep you ready for the gliding. The light glows when the iron is turned on & heated up well and blows off when the desired temperature is reached or when the iron is turned off.

Thermostat functioning:

The Aqua Bliss Steam Iron comes with preset temperature commands, making it suitable for any type of fabric. Simply select the appropriate mode for the material and you're ready to go.

Long cord for better reach:

The Maharaja Whiteline Aqua Bliss Steam Iron comes with a long cord to offer convenience for dynamic ironing along the long stretches of the fabric without a hitch, making ironing uninterrupted.

Shock-proof fully covered body:

This Steam Iron boasts a shockproof body. The built offers a convenient and risk-free operation when working with high voltage. This facilitates a safe and smooth ironing experience and ensures crisp & creaseless results.

2 years warranty:

The Maharaja Whiteline Aqua Bliss Steam Iron comes with a 2-year warranty ensuring long-lasting use, promising customer service, and a user-friendly experience.
| | |
| --- | --- |
| Colour | Aqua Blue |
| Power | 1200 watt |
| Operating Voltage | 230V |
| Temperature Control | Multiple fabric settings |
| Product Dimensions | 28*12*14.7 cm |
| ISI Certified | Yes |
| Product Weight | 780g |
| Product Warranty | 2 Year |
Product Reviews
No reviews