Contigo 28L

Oven Toaster Griller (OTG)

Performs perfectly and cooks at your fingertips!





No reviews |
Write a Review
12699
28 Litres Capacity
1500- Watt Power consumption


3600 Motorized Rotisserie
Convection For Homogenous Cooking
Colour:
Black & Stainless Steel
Colour: Black & Stainless Steel
Power: 1500W
Capacity: 28L
Body: Stainless Steel
Timer: 60 minutes with Auto cut-off
Mode: 6 Cooking Mode
Perfect cakes and even more perfect meals, this is what Contigo 28L Oven Toaster Griller from Maharaja Whiteline promises you. It is power-packed to cook with strong 1500-watt power consumption with a 28-litre capacity. The OTG comes with top and bottom heating elements that ensure optimum cooking.
Description
Specifications
Support
Reviews
Warranty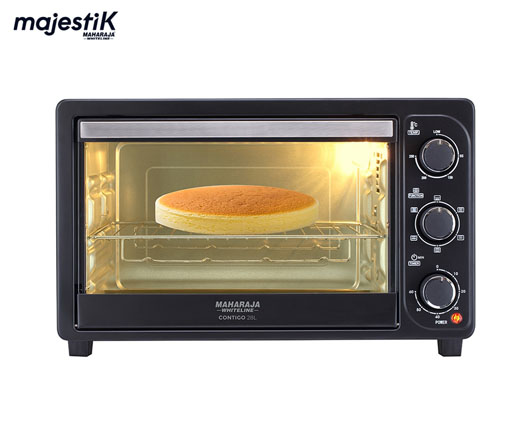 High-litre capacity:

The Maharaja Whiteline Contigo Oven Toaster Griller is designed to provide convenience while you grill, toast, and bake your meals. It has a large capacity of 28 litres, enabling you to cook all of your food adequately.

Top & Bottom Heating Elements:

The Maharaja Whiteline Contigo OTG is built with two heating elements—a top and a bottom element—so that you can select the temperature that is best for your dishes.

3600 Motorised Rotisserie:

Proffering the top-notch cooking functions, the Contigo 28L is engineered with a motorised rotisserie. It is built to roast your vegetables perfectly and uniformly.

transparent glass door:

The door of the oven is designed with a high-quality tempered glass that stands strong against the heat produced by the oven even during the hour-long meal preparations.

Stainless Steel Body:

Boasting a robust performance with an intention to serve for a longer span of time, the Contigo 28L is fabricated with heavy-duty stainless steel material. It is made to last a lifetime with its high-performance.

Interior Lamp:

Keeping you aware about your meal preparation, the Contigo 28L is equipped with an interior lamp. It adds on to your cooking convenience as you can easily monitor as to what is the status of your meal.

60 Minutes Timer:

Enjoy healthy and joyful meals that are cooked with the desired cooking time. The OTG lets you set the timing of your dishes before you place it inside it. Maximum timer allowance is 60 minutes.

6 cooking modes & 7 accessories:

The Contigo OTG comes with 6 cooking modes including convection which allows for homogenous cooking & fluffier food. The complete pack includes 7 accessories- skewers, rotisserie, rotisserie tong, grill rack, bake tray, grill & bake tong, & crumb tray.

Temperature Control:

Bake, grill, and cook in convection with the desired temperature ranging up to 250-degree celcius. The OTG is mindfully put-together by the experts to stay a suitable choice for every dish out there.

2 Years Warranty:

The product covers a warranty of 2 years, keeping you assured of quality that you can back upon.
| | |
| --- | --- |
| Power | 1500W |
| Capacity | 28L |
| Body | Stainless Steel |
| Timer | 60 minutes with Auto cut-off |
| Rotisserie | 360 motorised |
| Convection | Yes |
| Mode | 6 Cooking Mode |
| Accessories and Package | 7 Accessories - Chrome Skewers, Chrome Rotisserie, Chrome Grill Rack, Bake Tray, Aluminium Crumb Tray, Chrome Rotisserie Tong, Chrome Grill & Bake Tong |
| Thermostat Range | 0-250 Degree |
| Glass | Yes, Break Resistant Single glass |
| Heating Elements | Top and bottom |
| Interior Lamp | Yes |
| Warranty - Product | 2 year |
| Food Grade Safe | Yes |
| ISI Certified | Yes |
Product Reviews
No reviews