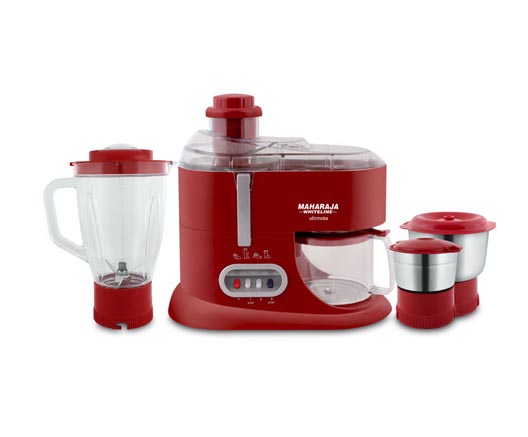 Powerful

It has a powerful motor of 550W that does the job in seconds.

Four Versatile Attachments

There are four attachments that come with this machine, three jars and one carafe. The jars measure 1.5L, 0.7L, and 0.3L. Fitted with super sharp blades, these jars are perfect for blending and grinding.

Full Apple Feeding Tube

The large feeding tube in Ultimate allows you to directly juice fruits and vegetables, eliminating the hassles of chopping.

Integrated Juice Carafe

The juice can be collected and stored in carafe for serving it directly later. With this carafe, you do not have to use an extra vessel for collecting juice and battle with the inconvenience of storing it later.

Appealing Design

Designed in attractive red and silver, this JMG enhances the visual appeal of the space it sits in.

Stainless Steel Juicer Mesh

The serrated stainless steel juicer mesh conveniently juices fruits and vegetables separating extract and residue.

Convenient control

Ultimate has four easy input push buttons, namely juicing, mixing, pulse and power.

Warranty

There is 2 year's product warranty and 5 year's motor warranty, which clearly shows the good quality of the product.

30 mins continuous grinding*

Ensures consistency of flood flavours.
*
Considering 2 minutes of resting time after every 5 minutes operation at standard condition.
Maharaja Whiteline agrees to maintain a limited period warranty of the products it manufactures. The warranty period of the appliance shall commence from the date of its purchase. Maharaja Whiteline Ultimate Red Treasure Juicer Mixer Grinder comes with 5 years on motor and 2 years on product warranty. For more information, click here: