Mark Deo

Juicer Mixer Grinder

A perspicacious appliance for hassle-free juicing, blending, and grinding!





No reviews |
Write a Review
3999.00
Powered with a 450-watt motor
Compact & novel design


Maximum Juice Efficiency
Dual side locking system
Colour:
White & Turquoise Blue
Power: 450W
30 Mins. Continous Grinding & Juicing*
2 multi-utility jars
Overload Protector
Have you ever wondered how it would be with a quality appliance that catered to your needs for juicing, blending, and grinding altogether? Maharaja Whiteline is here to answer that with the Mark Deo Juicer Mixer Grinder! With a stalwart 450-watt motor, this appliance is the one to get a glass of refreshing orange juice in summer, a luscious gravy for your curries, or finely ground garam masala any day, any time.
Description
Specifications
Support
Reviews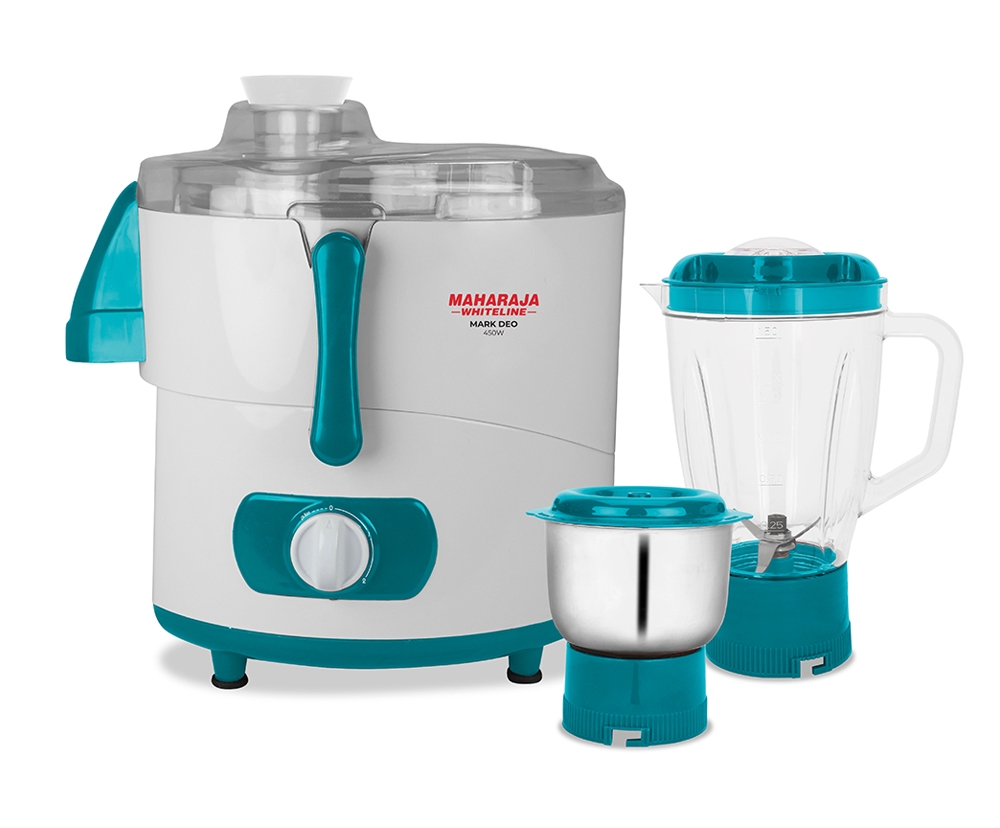 450 Watt Powerful Motor:

With its powerful 450-watt motor, the Maharaja Whiteline Mark Deo Juicer Mixer Grinder provides an excellent grinding, blending, and juicing experience.

30 Minutes of continuous usage:

With a perspicacious design and high juicing efficiency, this product offers a non-stop and hassle-free usage of 30 minutes, adding efficiency to your cooking.

Dual side locking system:

Along with its prepossessing look & impressive performance, this appliance has a dual side locking system which further adds to its safety. It allows you to lock your ingredients out and out ensuring no spill & splatter.

Stainless steel blades to mix and grind:

The Juicer Mixer Grinder features top-notch and perfectly sharp blades made of sturdy stainless steel material. Be it plushy fruits or tough spices, Mark Deo juices, mix and grinds them all!

Stainless Steel Cutter & Juicer Mesh:

The results of Mark Deo Juicer Mixer Grinder never cease to amaze you. It is devised to perfection with premium body parts like stainless steel juicer mesh, cutter, and a detachable anti-drip spout.

With 2 multi-utility jars:

This Juicer Mixer Grinder comes with a set of two jars including a blender jar of 1.5 liters and a grinder jar of 700ml adding versatility to your kitchen tasks.

Overload Protector:

Installed with an overload protector, Mark Deo monitors the current in the motor circuit to prevent motor damage and adds safety and longevity to its utility.

2 years of warranty:

Along with top-notch performance and fine results, the Mark Deo Juicer Mixer Grinder offers an assurance of long usage with a 2-year warranty on the appliance.
| | |
| --- | --- |
| Power | 450W |
| Colour | White and Blue |
| Operating Time | 30 mins Continous Grinding ** |
| Food Grade Safe | Yes |
| ISI Certified | Yes |
| Blades | |
| Locking System | Normal Locking |
| Jars | 1.5L Blender Jar, 700ml Grinder Jar |
| Speed Setting | 3 speed + Pulse |
| Warranty - Motor | 1 year |
| Warranty - Product | 2 year |
| Superior Stainless Steel Juicer Mesh | No |
| Integrated Juice Carafe | No |
| Anti Splash Detachable Spout | Yes |
| Other Attachment | No |
| Large Feeder Tube | No |
| Control | Control Knob |
| Non Slip Feet | Yes |
| Fruit Filter | No |
Product Reviews
No reviews