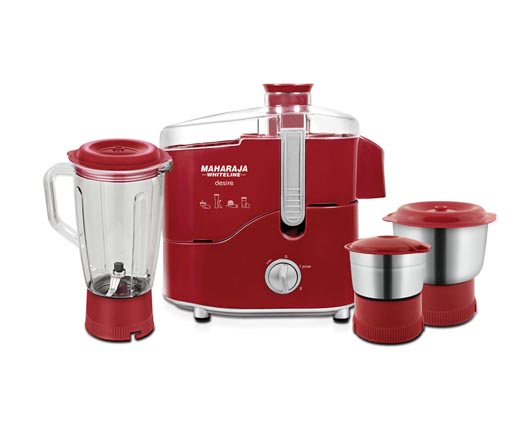 Powerful

With a motor capacity of 450W, this JMG makes a perfect kitchen machine for all. It efficiently churns juice, grinds and mixes preparatory ingredients to get desired results.

Anti-Splash Spout

The spout cover prevents juice from splashing all over and the added layer on top ensures smooth, single stream flow.

Stainless Steel Juicer Mesh

The juicer mesh is made of stainless steel, hence sturdy and durable. It has small, sharp serrated lines in the centre that efficiently separate pulp and seeds from the juice.

Maximum Juice Extraction

Designed to deliver nothing but the best, this juicer churns out maximum juice from fruits and vegetables.

Three Versatile Jars

There are three versatile jars that come with this machine, measuring 1.5L, 0.7L and 0.3L. The biggest jar is for liquidisng, medium for grinding and smallest is the chutney jar.

Super Sharp Blades

The blades fitted in jars are sharp and they easily cut through even hard food substances turning them into powder/paste.

Large Feeding Tube

The large feeding tube eliminates hassles of chopping fruits and vegetables. With this you can put big chunks of fruits for juicing.

Warranty

2 year warranty on the products clearly signals towards its quality make

30 mins continuous grinding*

Ensures consistency of flood flavours.
*
Considering 2 minutes of resting time after every 5 minutes operation at standard condition.
Maharaja Whiteline agrees to maintain a limited period warranty of the products it manufactures. The warranty period of the appliance shall commence from the date of its purchase. Maharaja Whiteline Desire Red Treasure Juicer Mixer Grinder comes with 2 years on motor and 2 years on product warranty. For more information, click here: