Superion 12DX neo

Induction Cooktop

Engineered to Precision !





No reviews |
Write a Review
3500
1200W Powerful
Automatic Voltage Regulator


7 Pre-set Indian Menus
Pan sensor technology
Pan sensor technology
Automatic voltage regulator
No Flame
1 Year Warranty
All the smart features make it an impeccable kitchen accessory and give you a chance to transform your conventional kitchen into a smart one. Advanced engineering techniques with an aesthetic approach are employed in the fabrication process of Maharaja Whiteline Superion 12DX Neo Induction Stove to make it an exclusively exquisite piece that delivers extraordinary services.
Description
Specifications
Support
Reviews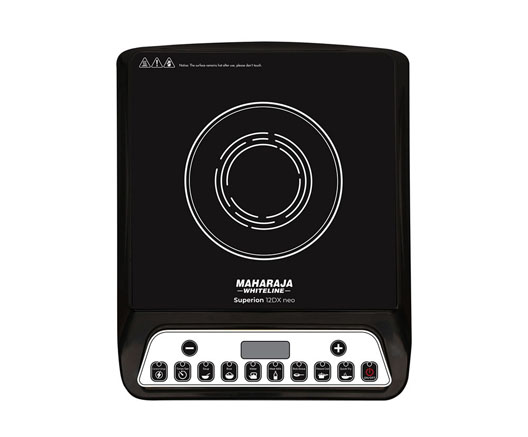 7 pre-set Indian menus:

The Maharaja Superion 12DX Neo Induction is designed completely for the convenience of the user and fitted with 7 pre-set Indian menus for quick setting of temperature that suits best for adequate cooking of selected cuisines.

Automatic voltage regulator:

An inbuilt voltage regulator is provided in the induction to regulate the constant voltage supply in case of power fluctuation or load variation. It will support the induction to perform efficiently and avoid any malfunctioning.

Works with 1200W Heating Element:

All-new kitchen equipment is here to accompany you with all the hassle-free cooking. The Superion 12DX Neo+ works efficiently with a 1200W powerful heating coil that allows for faster and smarter cooking any day.

Pan sensor technology:

The pan sensor in Superion 12DX Neo+ enables the induction to work only when a conductive vessel is placed on it which has a flat bottom to develop a strong contact between the vessel and part. It also assists in user safety due to the no vessel, no operation principle.

Convenient controls:

The soft and easily pressable buttons are equipped on the control panel of the Superion 12DX Neo+ induction with different signs and labels for easy identification of the required function key.

Durable 7-blade fan rapidly dissipates heat:

The induction is fitted with a fan of 7 high-quality fast-moving blades which permit easy dissipation of heat generated due to continuous heating operation and manage the functional loss due to overheating.

Flame-less operation:

Induction is the safest way of cooking as it does not involve any flame or direct heat exposure. It can be a smart way of teaching cooking to your kids if they have a passion for cooking.

1 year product warranty:

The product covers a warranty of 1 year , keeping you assured of quality that you can back upon in case of any discrepancy and get your appliance back on its toes and working for you like ever.
Product Reviews
No reviews