Sleek Dlx

Dry Iron

Get effortless care with style for your fabric with The Maharaja Whiteline Sleek Dlx Dry Iron.





No reviews |
Write a Review
970
1000-Wattage Power
Copper Cord Wire


Weilberger Sole Plate
Shock-proof Fully Covered Body
Power: 1000W
Non-Stick Soleplate
Adjustable Temperature Control Knob
Copper Cord Wire
The Maharaja Whiteline Sleek Dlx Dry Iron flaunts a sleek design and a sturdy framework paired with a robust mechanism to deliver a crisp & fresh look to your fabric. Driven with 1000-wattage power, the system holds the potential to generate high thermal heat facilitating optimum results. The dry iron is manufactured with the utmost attention optimizing the device for easy operation & convenience.
Description
Specifications
Support
Reviews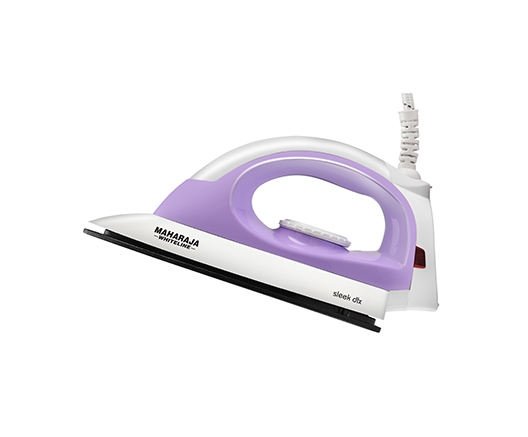 1000-Wattage Power:

The Sleek Dlx is powered with a 1000-Wattage mechanism. Therefore, the dry iron boasts the capacity of having a high thermal potential, enabling high-performance results. The appliance generates heat in an energy-efficient manner ensuring a safe & secure operation.

Copper Cord Wire:

The Maharaja Sleek Dlx features a copper Cord wire boasting high conductivity, strength & reliability. Thus, it lends the device high-durability and facilitates safe operation when working with such high power outputs.

Weilberger Sole Plate:

Manufactured tactfully, the Maharaja Sleek Dlx Dry Iron is fitted with a weilberger soleplate enhancing the design up a notch. Characteristically, the soleplate grants a nonstick coating resistant to high temperatures, assisting the iron to enable a smooth gliding experience when underuse.

Shockproof Fully Covered Body:

The Sleek Dlx Dry Iron boasts a shockproof body. The built offers a convenient and risk-free operation when working with high voltage. This facilitates a safe and smooth ironing experience and ensures crisp & creaseless results.

Thermostat For Desired Fabric Setting:

Sensibly Engineered, the Dry Iron comes with an in-built thermostat for desired temperature setting. This feature enables you to adjust the temperature control for optimum heat setting as required for the varying fabric material.

360-Degree Swivel Cord For Easy Movement:

The Sleek Dlx is designed expertly to service comfortable movement, built with a 360-degree swivel cord allowing free movement without a tug, facilitating easy stretch & curl while gliding over the fabric.

Long Cord For Better Reach:

To facilitate a seamless ironing experience & convenience for longer stretches of fabric without a hitch, the Maharaja Whiteline Sleek Dlx Dry iron is furnished with a long cord allowing better reach.

Over-Heat Safety Protection:

The Dry Iron comes with an overheat safety protection technology. The characteristic automatically turns off the system from further heating when the appliance has reached an unsafe thermal intensity & offers precautionary protection.

Indicator Light For Readiness:

Intelligently designed, the Sleek Dlx Dry Iron features an indicator light signaling you when the device is ready for use. The light is a representation of optimum heat potential for effective & efficient performance.

12 Years Warranty:

The Maharaja Whiteline Sleek DLX Dry Iron comes with a 2 year Warranty period to deliver promising customer service & a user-friendly experience.
| | |
| --- | --- |
| Colors | Red & White |
| Power | 1000W |
| Operating Voltage | 240 volts |
| Temperature Control | Multiple temperature settings |
| Product Dimensions | 25.5 x 11.5 x 13.5 cm |
| ISI Certified | Yes |
| Product Weight (Kg) | |
| Product Warranty | 2 Years |
Product Reviews
No reviews